Keep up-to-date on our latest news @ Muswellbrook Security Services
Muswellbrook Security Services is excited to introduce our new blog. Visit regularly to find updates on the security happenings of your town or area, from our experiences as wee see it. Enjoy security tips and stay secure by staying informed.
Here to patrol and protect
Clients of Muswellbrook Security Services from Singleton to Scone and everywhere in between can sleep soundly knowing that their most valuable assets are being protected.
​
Muswellbrook Security Services has again strengthened their local security services with the purchase of a new Suzuki Jimny patrol vehicle from Wideland Motor Group.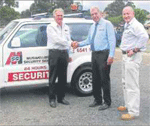 Security Guard saves life
​​
Muswellbrook Security Services guard James Shaw has been honoured by NSW Police for saving the life of a Scone man trapped in a vehicle after a horrific car accident.
​
The Muswellbrook Chronicle caught up with James to recount his story.